Jim Woods
1. Project Responsibilities
None at this time.
2. Contact information
Email: <redkilian AT gmail DOT com>
3. Interests
I have been using CentOS for a while now, and would like to contribute to the project in a few different ways. My initial attempt will be with the WebsiteVer2 planning.
4. List of achievements
I managed to get a CentOS wiki account set up.
I actually posted to a CentOS mailing list, instead of just lurking.
5. TODO list
Review the existing CentOS website content
Create a wireframe of a front page to work from
6. Biography
I work at a University in California. Kind of a generalist; doing a lot of systems administration, some web development, and, when I get the chance, some straight programming.
---
7. Scratch area
7.1. Web site layout and existing content review
This is an example new site layout with pages that will need updating or new content. The existing page(s) are in parenthesis. See the centos.org site map for the existing structure. The News is only found on the Home page. It can be the twitter feed, planet rss, a mix, etc. Estimate total number of pages for the web site to be less then 15 and the rest are links to existing sub-systems.
Home Page (www.centos.org) - Please see wireframe for new layout. This page is currently very busy while holding little to no relevant information.

About ( replaces Information->About, Information->Purpose, and Information->Goals ) - Will need a little bit of re-working, but the content exists.

About->Team (replaces Information->The CentOS Team) - List all the teams and members. Development, Security, QA, Web, etc.

About->Contact Us (replaces Information->CentOS Team->Contact, Contact Us->Development Team, Contact Us->Security Team, and Contact Us->Webmasters)

Downloads ( replaces the existing Downloads and Downloads->Mirrors page ) - Content exists, just needs a clean up.

Support - Landing Page similar to the fedoraproject.org Get Help page.

Support->Documentation (replaces Information->Documentation) - List the manuals. Should this also point into the wiki?

Support->FAQ - Points into the wiki.

Support->Wiki - Points to wiki start page.

Support->Forums - Points into the forums.

Support->Mailing Lists - Pretty page to list the lists.

Support->IRC - Pretty page with IRC channels and IRC etitquete

Support->Bugs (replaces Support->Bugs->Overview and Support->Bugs->Search) - Landing page with links to Common Bugs, Bug Search, and instruction on how to report a bug.

Donate (move the Downloads->Sponsors section to here) - List how to donate to the project or directly sponsor the project. List existing sponsors. Link to Contribute Section.

Contribute - New Section. See fedorproject.org Contributors or ubuntu.com Community for inspiration. May just point into the wiki.
---
7.2. WireFrame Concept A
Nothing special. Just a starting point.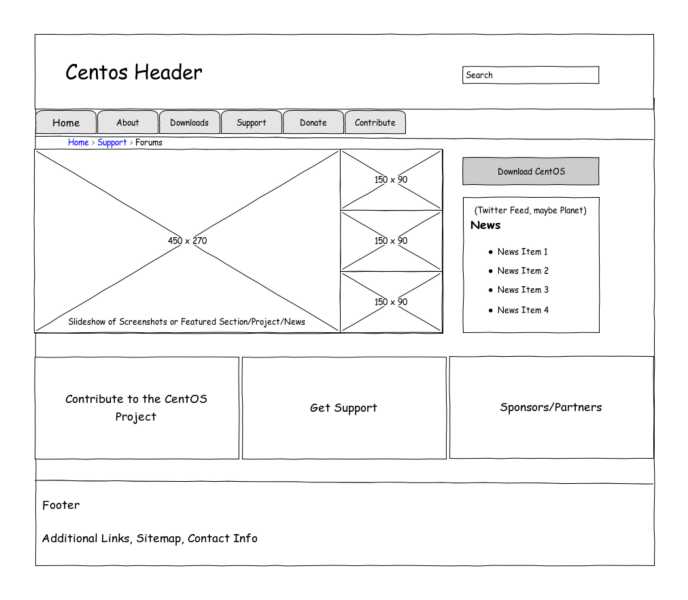 8. Notes from the discussion on 2011-04-07
8.1. URLs
8.2. Concepts
8.3. ToDo
Make discussion more visible on the wiki
Open project(s) in Atrium so people can subscribe to

Tasks which need to be broken down
Show progress

Collect people who want to do work
Write out what goes where
Find a tech solution
8.4. Content
Make contribution process more clear
8.5. Tasks
Need to go into OpenAtrium

Split page content
VM
start base design
Drupal install.
move wireframe and content review to atrium
Add pics and start design.
8.6. JimWoods suggestions (see above)
Technical Changes

Second News section for stuff which needs to linger around
Current releases somewhere near the top

Content Changes

Contribute => Wiki (or same content)

Copy GettingHelp from the wiki
8.7. Tech
Website solution

At the moment most knowledge seems to be around Drupal

LDAP glue
LDAP conversion from databases
---